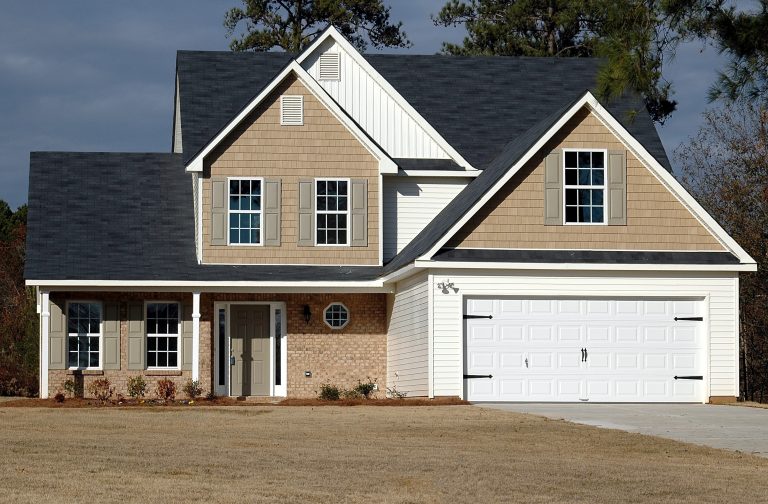 Digital Marketing for Real Estate is a necessity in today's market conditions. Every real estate broker, developer, and builder should carefully look into this domain.
The requirement for digital marketing in real estate arises because the consumers are becoming technologically and digitally advanced. Therefore, every sector opts for digital marketing as a significant part of its marketing campaign.
In 2020, 97 per cent of homebuyers had done their home search online (National Association of REALTORS) 82% of realtors expected to boost their social media presence in 2021, and 44% of realtors achieved success in 2020. (The Close). 
Before we get into the deep, let's look at some Digital marketing statistics in real estate.
Important Statistics of Digital Marketing for Real Estate
Among all the first time or second time home buyers, 80% search online first before buying.
52 % of the potential customers used an iPhone throughout their property search.
Referrals account for 49% of all leads.
91 % of realtors use social media.
83 % of home purchasers see photographs of the property online.
Importance of Digital marketing in Real Estate Business
Many realtors and brokers today underestimate the vital role that internet marketing plays in the real estate industry.
Not only can digital marketing increase brand awareness, but it also helps brands maintain their differentiation from competitors.
Several reasons why digital marketing is critical for your real estate business include the following:
1. Increasing popularity and use of Search Engines for Information
Nowadays, everyone uses a search engine to find almost anything. People prefer to search properties on google and other property listing sites rather than go outside and search manually.
So the necessity of building a robust online presence for real estate companies becomes a must. Your chances of getting leads will increase as more people find you when they search for a property.
2. An effective Blend of Video content and Mobile Friendly Marketing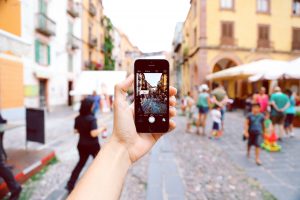 Mobile and video marketing have demonstrated their usefulness time and time again.
Numerous studies have proved that mobile advertising strategies are more effective than other forms of web advertising. Many people access their websites via cell phones, so it's unsurprising.
Additionally, videos boost conversion. Marketing via video and mobile is an investment. Landing pages featuring video can increase conversions by up to 80%(Hubspot).
Viewing a product presentation video may help a potential customer make a purchasing choice and convert the audience to leads.
Additionally, search engines prioritize video content. Google is constantly on the lookout for material that engages its audience, and video has been shown to significantly improve engagement (not surprising, given that YouTube is the second most visited website after Google)
3. Online Reviews can uplift Business Credibility
Winning customers' trust is crucial for a business; such practice makes a business credible. Writing online reviews can be the best if not the only way to do so.
For example, customers can write reviews about their experience with your product or service on your Google business page or website. 
Positive customer reviews about the developer or real estate agent have the power to change the perspective of the new home buyer or investor. It is always going to be added to your brand value. So after a good service, asking for a review is a good habit.
4. Performance evaluation can be possible with Data & Analytics.
Big hoardings, Banners, and Flex effectively create brand awareness and let people know about your real estate project. But how can you trace the effectiveness of this physical campaign?.
You can't be able to evaluate delivery rate, ROI, audience demographics, and conversion rate. In short, this method is very superficial and can't be personalized.
On the contrary, Digital marketing methods such as Google Ads and Facebook Ads will give you the liberty to track your performance as deep as possible.
You can track your conversion rate, audience demographics, interest, behaviour metrics, engagement, cost per lead/result, etc. Once you find this data, you can optimize your Ad campaign and dig out more leads and, ultimately, sales of your property.
5. Possible to target a broad Audience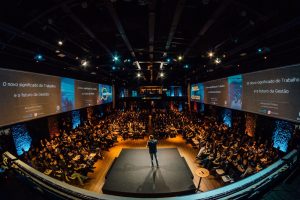 Physical branding has its limits. Suppose you have a villa project near a coastal region, and you want to target the real estate investors who want to invest in this project because it will be a hot tourist destination in the future.
You will start your branding via banners, hoardings, sponsorships, local tv commercials, etc.
The primary issue you'll face while scaling up your reach is that you need to triple your budget to target an audience outside of your district, town, or city.
Also, you can't be able to target a specific audience that has strong intent to invest in a coastal villa. In short, you probably waste your money.
Facebook Ads and Google Ads are the streams of paid digital marketing that allow you to fully customize your audience based on location, interest, behavior, gender, age, etc.
Such targeting liberty reduces your budget and boosts your ROI drastically. Sri Sai SMS mastered the job of increasing ROI for real estate clients and generating sales with Facebook and Google ads.
Steps involved in the Successful Digital Marketing Marketing Strategy for Real Estate
1.Customize Email Marketing campaign for Real Estate
Email marketing can be a very profitable digital marketing strategy if used wisely. The smart insights report says that the open rate of emails for real estate businesses is around 27%, with a click-through rate of 3%. 
Relevant email content will provoke the reader to open an email and read it so that your message will deliver to them. 
Email Marketing success Tips
The following tips can help you to run a successful email marketing campaign.
Personalize your email using the name of your customer in the email content.

Email schedule automation speed up the process of sending uninterrupted emails.

Provide new and valuable information to new subscribers and retain relations with previous subscribers. 

Create informative and fresh information for subscribers, such as real estate trends, news, investment vehicles, case studies, etc.

Strategize your offers that attract users to subscribe to your email list.

Keep an eye on your subject lines to make them short and crispy with all the essential elements.

Your email content should have only a single call to action because multiple calls to action lead to confusion among the users.
2. Develop a User-Friendly Website for a Real Estate business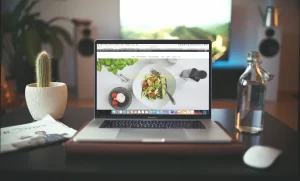 How often have you opened a website to have it closed due to a slow load time?. Realtor websites may occasionally be a web developer's nightmare with their abundance of photographs, CSS effects, and hyperlinks.
Real estate professionals develop a website from the best web designer according to the online behaviour of their prospects based on device responsiveness, UI interactions, browsing pattern, etc. 
Google prioritizes a mobile-friendly website, which means a website that opens faster on mobile devices and its user interface is mobile friendly.
So it is wise to develop a mobile-friendly website because real estate customers primarily interact with online properties from their mobile devices.  
Here are some prerequisites to developing a mobile-responsive website which is effortless for a user to navigate.
A list of the latest listings should be on the top.

Specific and helpful content helps users decide between buying the property/house, etc.

Links to the real estate parallel services such as lawyers, movers, interior, loan calculator, etc. This tactic helps users make this entire process simple, smooth and one-stop.
3. Go for Search Engine Marketing or PPC.
Those real estate agents or developers looking for hot leads can directly opt for SEM or PPC( Pay Per Click). PPC ads are highly converting and can get you best results. Google ads is the best and most popular form of PPC ads. Google has the largest search volume on the planet of about 92.
So whenever people willing to buy a property/house/land, etc. They first search on Google. Google ads have the highest conversion rate in real estate niche. Hence it is always a wise decision to promote your real estate business via search engine marketing.
4. A Robust Content Marketing Strategy (Create Blog posts)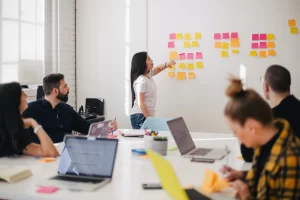 A blog is a comprehensive piece of descriptive content which can help explain a topic.
It is a well-mixed composition of Image, Text, Video, Graphics, and diverse content marketing strategies that can develop greed for quality information among the readers.
So ultimately, the business gets benefitted from it. A website with blogs written on various topics contains higher chances of being top on Google search ranking than websites that only contain business information.
So it is also helpful for SEO. Informative blogs on various subjects and keywords can be a game-changer for real estate businesses. Hundreds of thousands of keywords related to real estate are searched every month on Google.
As a real estate professional, you should create descriptive and valuable blog content that can solve many problems for your customers. Such effort will be awarded by google.
It will increase your website engagement, traffic, and ranking on Google searches. Your website will start driving genuine prospective customers through the blogs you've created. 
You can start by creating blogs that cater for the local audience first. Such blogs are most likely to get ranked on Google. e.g. Under construction villa projects in Pune, 2 BHK flats in Mumbai, etc.
Proven Strategies to Create Engaging Content :
Keep an eye on the website's page loading time. ( Ideally, it should be between 2-3 secs).

Work towards a mobile-responsive user interface.

The address of the business and google location must be there on your website.

Practice local SEO first as it is very easy and effective. You need to target your city and neighbouring towns.

Use multiple forms of content such as Blogs, Infographics, Podcasts, videos, etc.

Use testimonials of your previous clients. Your buyers will surely read them.

Write an attractive and confident "About Us" section. Let people know about your company's mission and vision.
5. Increase Lead percentage via Hosting Virtual Tours
In digital marketing for real estate, the objective is to engage prospects as effectively as possible. Your leads may view 3D virtual tours of your listings by mobile device, tablet, or desktop computer.
According to Better Biz Works, virtual walkthroughs generate 50 % more leads than regular postings with pictures.
As a real estate specialist, you are responsible for making the home-buying process as simple as possible for your customers. Andrew J. Carr outlined some of the essential characteristics that real estate agents should strive to incorporate into effective virtual tours, including:
Using actual video of the home as opposed to computer illustrations.
Ensuring that the tour video is dynamic and responsive across all viewing modes (mobile and desktop).
Creating a 3D, user-friendly virtual tour.
6. Develop a Social Media Marketing Strategy
A robust social media strategy is a must for a real estate business if you are very serious. Social media like Facebook, Instagram, Twitter, and Pinterest has billions of monthly active users.
Facebook and Instagram alone contribute the largest % share of most active users and active time among all social media. It is a wise practice to grow your real estate business on these social media platforms organically or through Ads.
Social media marketing has a lot to offer, especially in real estate. You can choose your way to grow your social media presence. Either select the paid way or organic way, or both.
A successful social media strategy involves the best and most realistic competitor research. In this process, an agency analyzes competitors' content, upload times, upload frequency, followers, page likes, Content types, hashtags, etc.
A social media marketing strategy develops the brand value, increases people's engagement with your brand, and helps build your brand's image in the market.
Real estate giants like Lodha, Rustomji, and Shapoorji Pallonji consistently interact with their consumers via social media. Their content is unique, engaging and, most importantly, consistent.
However, paid social media marketing strategies such as Facebook Ads and Instagram Ads are generating great results for real estate agencies and developers. Facebook has a vast and multilayered database of users.
Real estate businesses run Ads for their projects and skyrocket their revenue through the paid medium. If you laser target your audience, it will significantly improve your ROI.
7. Take consistent SEO efforts for long term Benefits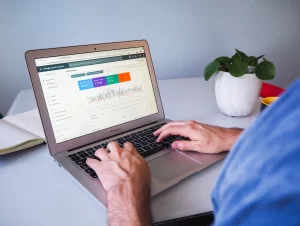 SEO or search engine optimization is a long term practice of ranking a website in Google or any other search engine.
If you are new to SEO and want to know what is SEO? and the benefits of SEO? then read our detailed blog on this topic. 
The real estate sector is highly competitive in India. So promoting your project or property via Facebook or Google ads will not be budget-friendly.
The rising cost of real estate related keywords for Google ads or the cost per impression for Facebook ads can drain your entire budget rapidly.
To attain the best results economically, starting SEO of your website is a must. It will take several months to come into effect, but it'll be worth your money.
The best thing with SEO is that you don't need to pay a single penny to Google; you can drive massive traffic daily. Your website will have valuable and engaging content, increasing your brand's overall reputation.
Common FAQ's for Digital Marketing in Real Estate
Is digital marketing effective in real estate?
Real estate is one of the industries that has benefited greatly from digital marketing. According to recent research, nearly 92% of buyers conduct research on a product before making a purchase decision. The purpose of having a strong digital presence for a company is to make the brand name stand out.
What is the significance of digital marketing in real estate?
In the real estate market, digital marketing makes things easier and more efficient.
Eliminating the need for a middleman in a purchase or transaction has also shown to be a valuable benefit.
All project information, including features, facilities, the project's design and feel, legal papers, and cost.
Is Facebook or Instagram better for real estate agents?
Instagram isn't nearly as productive as Facebook for real estate brokers.
Only 11% of the platform's 1 billion users are from the United States.
Businesses account for only one-third of the most popular stories.
Instagram is the sixth most popular social media platform in the world (Hootsuite).
Can real estate agents advertise on Facebook?
Finally, one of the most successful venues for real estate advertising is Facebook. Facebook advertisements may help you with a variety of things as part of your social media marketing plan, including: Local customers are being targeted. Local businesses are critical to the success of real estate professionals.
Should I make a separate Facebook for real estate?
For real estate marketing success on Facebook, having a thorough and optimized real estate Facebook page is important. The information you include in the title and description of your page is a crucial part of gaining trust and authority with potential clients in your region.
References :
https://www.naukri.com/learning/articles/real-estate-digital-marketing-strategy/
https://digitalmarketinginstitute.com/blog/8-ways-realtors-can-use-digital-marketing-to-boost-sales
https://www.knorex.com/blog/articles/digital-marketing-for-real-estate
https://www.inc.com/young-entrepreneur-council/how-to-do-digital-marketing-for-real-estate.html
https://www.digitalvidya.com/blog/real-estate-digital-marketing-guide/.