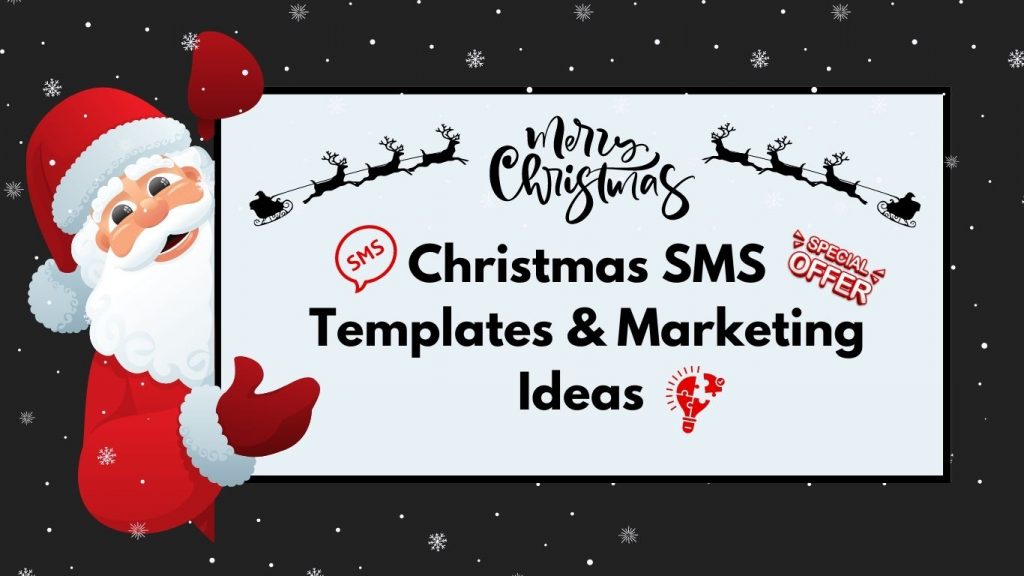 12 Popular Bulk SMS Marketing Templates & Tips for Christmas & New Year 2022
Although one of the most joyous occasions of the year, Christmas can also be very stressful. Particularly to those who frequently put off starting their Christmas preparations until the last minute.
We're going to assume that you're not one of them because you're reading this. When the competition is this intense, planning your SMS marketing campaigns early enough may make all the difference for your company and position you for the forthcoming Christmas season.
We know this joyous season is a time to show gratitude to loved ones and laugh together over Thanksgiving meals. But did you know that you can reward your clients and boost the effectiveness of your company's marketing campaigns by sending them direct and tailored SMS messages?
Avoid sending texts before 8 am and after 9 pm to ensure they are sent at the appropriate time. The geographical location and time zones of all your clients are equally significant because it's possible that your customer base isn't only restricted to one nation.
A business should send wish texting and all texts between 10 am and 8 pm. People are most engaged on their mobile devices now, making it more likely that they will respond to your SMS.
Plan your SMS campaign if you want your subscribers to do anything particular, like shop for your Christmas present sale. Try texting subscribers before and during the event to get people excited about the flash sale and remind them that time is running out.
Tips for Crafting Engaging & Result oriented Bulk SMS Template for Christmas & New Year
1. Include individualization
It's simple to personalize Christmas messages. Your consumer's name may be easily inserted by using dynamic fields in your text message. Do your SMS campaigns for Christmas either from Textlocal, Bulk SMS Gateway, Myysmsmantra or us( Sri Sai Technologies) you have to do it asap.
Deep data insights can enhance the impact of a simple text message. Let's check out example of personalized sms templates.
Basic personalized holiday Message: Hello, Merry Christmas! Enjoy Christmas with Love & 15% discount on your Next Trip.[URL]  
Advanced personalized holiday Message: Hello Shlok, Wish you a prosperous New Year!, make it more Happy, We bring you Flat 50% OFF!. [URL]
2. Make good use of characters
There are just 160 characters in a regular text message, which is nice since it makes your holiday messages succinct. One message per subscriber is more cost-effective (exceeding the character limit results in many communications). It makes it simpler to hold your customer's attention by sprinkling in a few potent phrases.
Consider how some of the most effective marketing cliches were developed with only a few words:
LG – Life's Good

Mcdonalds – I'm Lovin' it

Amul – The taste of India
And even if you won't create a slogan for your holiday ads or Thanksgiving messaging, consider the power of a few well-chosen phrases. Check out this collection of concrete terms that can strengthen your brand for ideas.
Use a link shortener when directing clients to your website since this is another practical approach to keep your messaging brief. Natural, unshortened hyperlinks can take up valuable space because they are often reasonably long (between 40 and 100 characters).
3. Make sure there is a compelling call to action (CTA)
Think about what you want the recipient to do before creating your Christmas text message. Is getting a sale your goal? Stop by my online home? How about some feedback? Give the consumer a call to action (CTA) that explains exactly what you want them to accomplish. For instance, "BUY NOW," "BROWSE STORE," "GET 25% OFF," "READ BLOG," "VISIT WEBSITE," and "LEAVE REVIEW" are all effective calls to action.
4. Avoid bombarding your clients
You need to send out one Christmas-themed text message campaign. Because if consumers are considering buying your stuff, a single message will suffice.
If customers need to remember to check out, a simple SMS message can serve as a reminder.
Create a system of automated text messages to nudge clients who started but didn't finish their purchases to finish up.
5. Extend a sale for end time buyers
Usually, folks start preparing for Christmas just a few days before. And that's okay – while most have done their holiday shopping already, you may still make a sale or two targeting the ones who waited until now.
To persuade last-minute buyers to act, you might employ urgency or FOMO (the fear of missing out). Send a holiday text message announcing the end of promotions and notify subscribers when they may still benefit from your sales. Include the sales page link so that people can simply check out your deals.
Text Message Template Examples for Christmas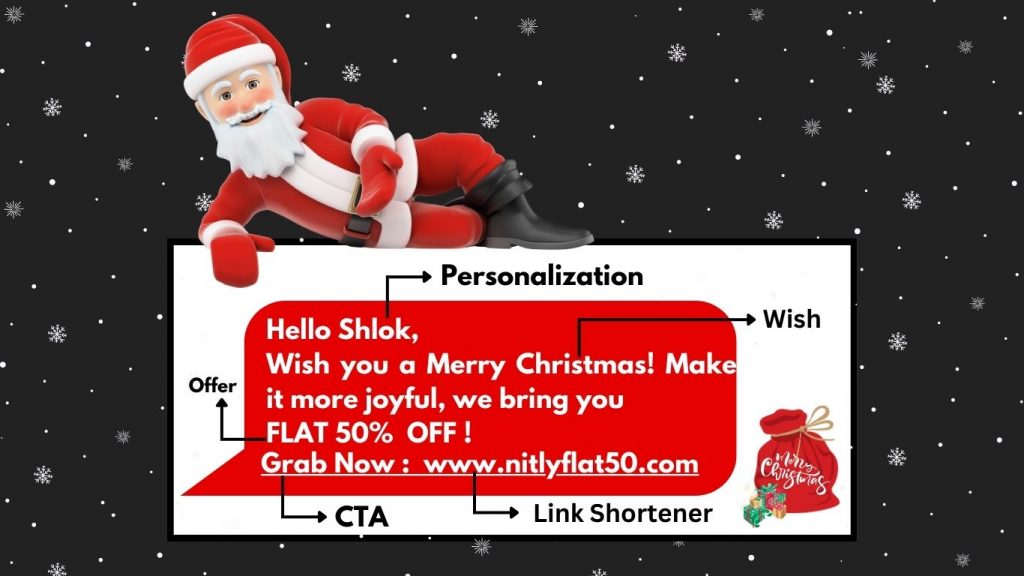 Texts for Festivities like Christmas & New Year
[Manish], have a wonderful Thanksgiving! Thanks for your faith. Apply Code RM25 and get 25% off on your next purchase. [URL] 
2. Brand awareness, client interaction, and sales
Enjoy the season… of shopping! [Pooja], Lots of love! Check out our Holiday Packages for [Newly married, just engaged, best buddies, and more]. [URL]
Let's make this year's Christmas memorable [Pari], but you may still have a delicious feast. Gobble, gobble! Read [5 simple Turkish delight recipes]: [URL]
4. Boost social media engagement
Hohohoho.. [JAY], check out the secret santa party around your location from the post, share your santa picture in comment & win Free entry ticket! [Social media link]
5. Glorify time bound seasonal sale
[Josh] Christmas is ticking at your door! Get a life this Christmas with a Flat 50% on any Meal for Groups! Offer only for the first 50 Groups only. So hurry up! [URL]
6. Wishing a merry christmas
Ohh christmas tree! We wish a great year for [Nick]. At this snowful occasion, we only wish happiness and stability for you.
7. Provide important information to customer
Merry Christmas, [Siya]! We're short of employees due to the festive season, your profile might take 24 – 48 hours for review. Check status here. [URL]
Welcome to 2023 [Ankit]! This new year you might win a 10 gram gold coin, as our property sale is extended till Jan 12th for [1 BHK & 2 BHK] flats. Site visit: [URL]
Kiara, Christmas is almost approaching! With 20% off all winter clothes, you can keep your loved ones warm and snug this winter! Purchase now: [store URL]
Get a head start on holiday shopping with 15% off any Inkjet Printer! This week, you'll get an extra cartridge for half the price. Go to the store: [store URL]
Buy bulk gifts this Christmas! If you are one of the first 100 purchases, we will send them to your door for free! Wait no longer: [store URL}
12.Online workshop/webinar
Hello there, Heily! This New year let's make a fitness resolution!  Do attend a 1-hour online fitness workshop! There are still a few spots available , so sign up here: [website URL]
Moral of the story: Use Bulk SMS templates in this Christmas and New year to get better leads and conversions for your business.
An SMS campaign is worth considering if you want to get noticed by your consumers, not least since the typical smartphone user checks their phone 63 times daily.
A customized  Bulk SMS marketing campaign may increase client interaction, whether it's Christmas or New Year's greetings. Let your customers know that you are with them in their Christmas or New year celebrations via these bulk sms templates.