Top 10 Bulk SMS Service Providers in Hyderabad with Bulk SMS Service Price and Details.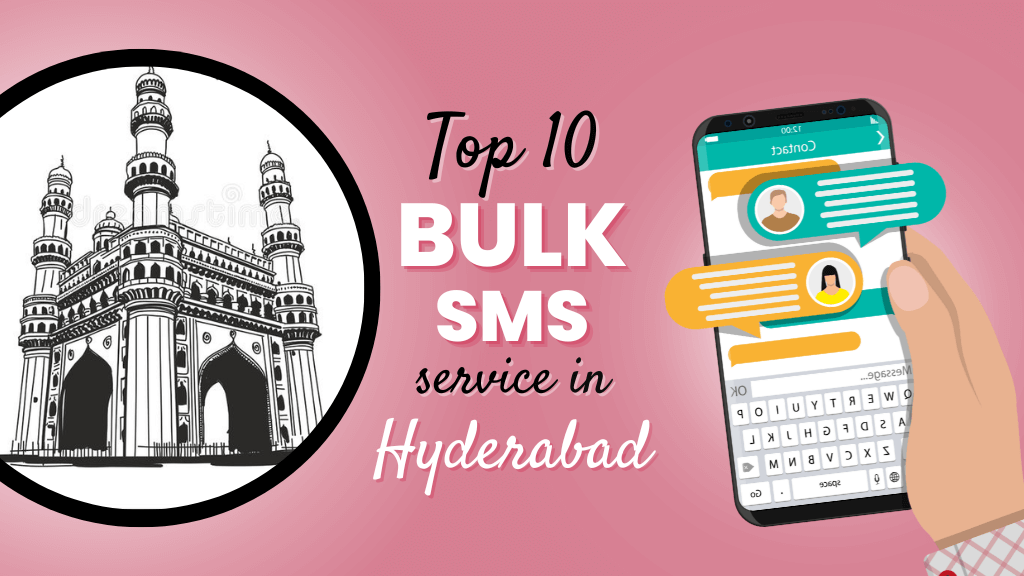 Best Bulk SMS Service Providers in Hyderabad
According to Deloitte's 2022 Global TMT (Technology, Media and Entertainment, Telecom) forecasts, India will have 1 billion smartphone users by 2026. The rural sector is projected to be the driver of this growth. However it seems to be like a mobile revolution.
From this remarkable fact, multiple businesses have the chance to significantly increase their client reach, satisfy them, and generate money with higher ROI. We've craft this descriptive blog on Top 10 best Bulk SMS Marketing Services Provider in Hyderabad. We hope that you get some value out of it.
Initially there is always a rat race for every business to convert their leads into customers. So the bulk SMS marketing or SMS blast services are the adrenaline rush during this race as it is effective and powerful. 
Moreover there are multiple Bulk SMS service providers in Hyderabad, and their numbers have only increased in recent years.
So the question is, how do you make your choice of the SMS blast or Bulk SMS provider or you want to work with among the Best Bulk SMS service providers in Hyderabad?
Initially, when we decided to compile this list, we intended to include SMS providers who serve significant enterprises and small and medium-scale organizations. 
Before proceeding to the Top 10 Bulk SMS Services Provider in Hyderabad, let's first explore what Bulk SMS is ? (Bulk SMS marketing meaning) what are the types of bulk SMS ? and why Bulk SMS Services are important ?(Benefits of Bulk SMS marketing).
What are the pros and cons of Bulk SMS marketing? And what factors should be considered before using Bulk SMS Services? 
Text messaging, also known as short message service (SMS), is a strong medium for connecting with and providing vital information to consumers and other mobile phone audiences.
Bulk SMS marketing is a practice that uses text messages to reach out to a large number of individuals at once.
Particularly, bulk message marketing campaigns may be delivered to users to tell them of special deals, notifications, emergency information, updates, reminders, and much more.
It's an effective way to communicate with customers, wherever they are in their customer journey.
Although this type of marketing has been around for a long time, it is still the most efficient strategy to reach your consumers, enhance customer engagement, and promote conversions.
Depending on the use case, a large number of SMSs are sent for a variety of purposes. Bulk SMS is a precious tool that has been divided into two types based on its applications:
Promotional SMS:
Usually It is used to send promotions and offers to new prospective customers as well as existing ones. Customers may simply be kept up to date on new store offerings, and all of the most recent information can be delivered to them in a matter of minutes.
Non-critical SMS can be readily sent to many customers via promotional SMS, and the messages will be delivered exclusively to NON-DND registered members. It is one of the best and cheapest ways to do business promotion. These types of messages are known as
1) Promotional SMS
2)Marketing SMS
3) Business SMS
4) Awareness SMS
Transactional SMS:
It can be used to communicate with clients by delivering SMS updates and alerts. Transactional routes are also used to send OTPs and notifications to registered users, and these sorts of SMS can be delivered quickly.
There are the different forms of messaging under the transactional category.
Transactional SMS

 Informational SMS

Service SMS

Optin SMS

OTP SMS

API SMS
Bulk SMS Services are further classified based on the functionality allowed by the various SMS panels.
Some of the features are highlighted and detailed here.
1) Normal SMS
2) Unicode SMS
3) Customize SMS
4) Personalize SMS
5) Multimedia SMS
6) Event SMS
7) Survey SMS
8) Short Link SMS
To summarize all, the above SMS features can be used for a variety of purposes, such as sending English SMS using the Normal SMS feature, sending SMS in other languages using Unicode SMS, sending SMS in other languages using Customize SMS, sending unique SMS in each number using Personalize SMS, and sending multimedia files such as Images, Videos, Audio, Documents, and so on using Multimedia SMS.
Collectively these were some types of Bulk SMS Services. now let's move on to understanding some benefits of bulk SMS marketing.
SMS allows you to reach consumers who do not have your mobile app or to re-engage customers who have been inactive on other channels or are at risk of churn.
2) High Open Rate and Massive engagement:
SMS message open rates have been claimed to be as high as 99 %, compared to only 20 % for emails.SMS is often regarded as one of the most efficient ways of interacting with clients.

 
Certainly, not every person who reads your text will react. However, it comes to reason that if someone has seen your communication, they are more likely to rely on this versus if they have not. 
People read almost every text message they get, and many choose to discard emails without viewing them.
Within three minutes, 98 % of SMS messages are opened, and 90 % are read. 68 % of customers claim they check their texts daily.
SMS marketing solutions enable bulk senders to deliver time-sensitive messages to an audience's mobile device swiftly and easily, without the need for an app or development labor.
Compared to emails, which remain unopened for days, and direct mail, which may take days to send, an SMS takes less than 7 seconds to reach the intended recipient. You can be confident that your message will get delivered quickly.
Personalization is something that today's mobile customers anticipate. Bulk SMS marketing enables businesses to distribute customized and timely communications on a large scale. It allows you to target your whole contact database, a subgroup of contacts, or even an individual. Lastly, it is critical to a successful marketing effort.
For example, you should deliver a different message to prospects than to established clients. It's quick and simple to create templates and personalize SMS messages each time you send one. Consumers are far more likely to respond to a message tailored to them than a generic or irrelevant message.
6) Impressive Conversion Rate:
Email response rates are generally low, hovering around 8%. A response rate of 60 % for SMS, on the other hand, is not uncommon and is frequently much higher. Thus chances of Conversion become easier.
7) No Obstacles to Delivery:
Spam filters frequently prevent marketing communications from reaching their intended recipients. SMS does not fall within this category. SMS texting is very reliable since there are no delivery obstacles.
8) Minimal Effort Required from Recipients:
SMS has a character limit of 160 characters, requiring marketers to present their message in a compact, easy-to-read format.
Short messages make it much easier for receivers to comprehend the main point of your SMS campaign versus long emails.
Most telephone service providers include several options that make responding to bulk SMS marketing easy. The receiver is more likely to reply to your message if you make it easy for them to read, comprehend, and respond to it!
SMS is one of only two mobile channels (the other being mobile wallet) that allows you to communicate with people without using an app.
SMS blast marketing is inexpensive compared to other marketing channels such as TV, radio, or print. Messaging is less expensive and has a greater return on investment (ROI) than many other marketing tactics, making it a cost-effective and long-term solution.
Meanwhile, Instant Opt-In and Opt-Out is possible with the click of a button by which recipients may opt-in or opt out of your SMS marketing. While this may appear negative, it is crucial for your business and consumers that you only target those who are interested in your product or service. As a result, you save time and money on cold leads, strengthens your reputation as a reliable organization, and protects individuals from unsolicited marketing.
Pros and cons of Bulk SMS marketing service
Sr No

 

Pros

1

Increasing Use of mobile phones

2

Cheapest way of Promotion & Information ( Cost-Effective )

3

High Reach

4

Instant Reach

5

High Open rates

6

Instant Response

7 

Customized campaign ( personalization )

8

Meet your ROI

9

API for All Developers code language

10

Send SMS in your local language

11

  High conversion rates 

12

Minimal Effort Required from Recipients
| | |
| --- | --- |
| Sr No | Cons |
| 1 | Require Data for Marketing |
| 2 | Promotion Allow in Non-DND users |
| 3 | Delivery delays |
| 4 | Can not deliver worldwide |
| 5 | Do not have real-time report |
| 6 | Short Message |
| 7 | Network Issue |
| 8 | Ensure not to send spam messages |
Factors to consider before taking bulk SMS services
So you've determined that sending SMS online is the best way to develop your business, or keep your customers informed and in the loop.
Kudos on your decision, as text messaging is the best tool for growth, success, and improved communication.
You cannot, however, accomplish it alone. You must select an SMS provider who will collaborate with you and allow you to reap the benefits of SMS.
Choosing a Bulk SMS online vendor for promotional or transactional SMS updates involves more than simple price comparison.
SMS campaigns' effectiveness can be determined by various elements such as delivery rate, scalability, delivery speed, compliance, security, support, and campaign customization possibilities. This guide will discuss the aspects to consider while choosing a Bulk SMS provider.
Maximum Delivery for Maximum Returns

Send Customized SMS Campaigns

Authentic Reports = Right Decisions

Importance of 24×7 Customer Support

Multi-lingual SMS

Transparent and Honest Pricing with Zero Hidden Charges

Integration with Your Existing CRM

Adherence to Best Practice.

You Can Take a Test Drive 

User-friendly Interface

Wide Range of Network Coverage
Top 10 Bulk SMS service providers in Hyderabad.
Sri Sai Technologies is a well-known name in the world of Bulk SMS Marketing. They are among the major Bulk SMS service providers in Hyderabad with more than 8 years of expertise. 
The company is not just provide No.1 Bulk SMS services  in Hyderabad, but in Pune, Jaipur, Bangalore, Delhi, Chennai, Mumbai and across India.
Industries they cover

: Education, real estate, as well as health care, finance, and oil and gas, gyms, salons & spas, restaurants, politicians, and so on. The company dominates every industry.

Pricing

: Checkout the prices for the bulk SMS services

here

. 

Website

:

https://srisaisms.com/
With 12+ years of experience, They provide premium services and a feature-rich SMS messaging solution that is second to none. Customers may rapidly launch low-cost bulk SMS campaigns to hundreds or thousands of recipients.
Industries cover

Government, automobile, banking, health care, entertainment, construction, and many others.

Pricing

: 

Checkout the prices for the bulk SMS services

here

 

Website

: 

https://www.smsgatewayhub.com
A motivated workforce and an unwavering network provide 100% customer satisfaction Bulksmshyderabad serving for more than 10+ years in Hyderabad and has become one of the best service providers in Hyderabad.
Pride Web Technologies Private Limited is an online marketing company based in Hyderabad, which provides the best bulk SMS gateway service in Hyderabad (INDIA).
Industries cover:

Education, healthcare, real estate, automobile, food, and many more

Pricing:

Checkout the prices for the bulk SMS services

here
Website: https://www.pridewebtech.com/
Mtalks is a bulk SMS marketing service provider based in Mumbai. They provide services all over India By connecting businesses with their target audience all at once, they assist businesses in efficiently and promptly marketing their goods and services.
Industries they cover:

banks, retail, startup, BFSI, healthcare, education, marketing, fin-tech, and several other industries.

Pricing: 

Checkout the prices for the bulk SMS services

here
Website: https://mtalkz.com
6) Suvidha software solutions
Suvidha software solutions specialize in business development since they offer services from the beginning of a firm to its growth. They implement strategies after carefully analyzing their clients' growth and opportunity.
Industries cover education

, IT, food, event management, and health care.

Pricing:

Checkout the prices for the bulk SMS services

her

e 

Website: https://suvidhasoft.com/index.h

tml
One of the best bulk SMS service providers in India is Bulksms Gateway. Their Web SMS Service is a comprehensive Bulk SMS Solution created for a small, medium or large enterprise.
Industries they cover

: Government, food, education, banking retail, fintech, and many others.

Pricing:

Checkout the prices for the bulk SMS services

here
Website: https://www.bulksmsgateway.in
Mysmsmantra is one of the leading bulk SMS providers in India. they have  facilitated effective communication between organizations and prospects through SMS marketing.
Industries cover:

Food, education, automobile, IT, and many more industries.

Pricing

: Checkout the prices for the bulk SMS services

here

 

Website

:

https://www.mysmsmantra.com/
9) Bulk SMS service providers Hyderabad
As the name says itself Bulk SMS service providers Hyderabad are service providers in Hyderabad since 2007 with more than 1000+ clients.
Industries they cover Education, club and association, hotels ad real estate.

Pricing: Checkout the prices for the bulk SMS services here 
Aakruti Software Solutions Pvt. Ltd. is one of the major web solutions and services providers in Telangana state. Their clients come from a wide range of industries, and they are based in Hyderabad.
Industries they cover: 

Education, retail, health care, etc.

Pricing

: Checkout the prices for the bulk SMS services

here
Well, these are a few of Hyderabad's top providers of bulk SMS. You should have a comprehensive understanding of your needs before choosing an appropriate service provider for your organization. I hope you have discovered one of your top 10 bulk SMS service providers in Hyderabad.
Which one of these service providers do you find the best? These 10 or anyone else? Comment down and let us know your thoughts.