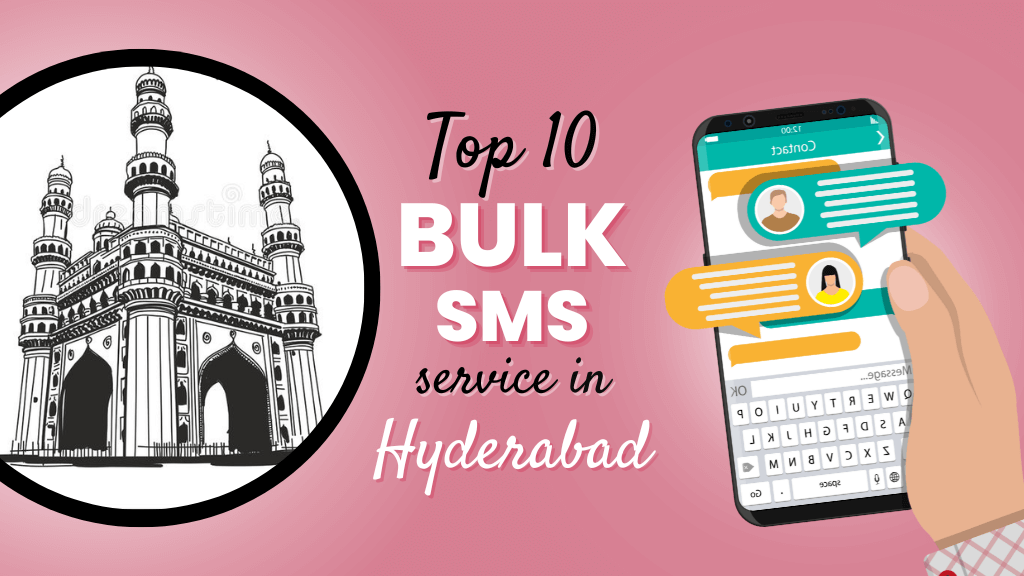 Bulk SMS Service in Hyderabad | Quality Service, Low Price | Fast Delivery
Bulk SMS Service in Hyderabad (India) – Is your organization in need of a dedicated provider of Bulk SMS solutions in Hyderabad & across India? Are you a business owner and searching queries like " best bulk sms provider in india", "sms marketing service",  "sms reseller panel", "bulk sms service provider near me"etc. This blog can be your solution.
Sri sai SMS can be your Best Available option! The Sri Sai SMS Marketing dashboard enables you to upload a notepad file or an excel spreadsheet to deliver messages to a large number of contacts. Our responsive bulk sms panel can also serve you about delivery status of the campaign. Our standard delivery ratio is approx. 96%.
You may send bulk messages to several contacts by hitting a few buttons on your keyboard. 
Many business owners and marketing professionals are hesitant to use SMS as a marketing tool owing to the stringent rules around mobile marketing.
Bulk SMS service in Hyderabad provides several benefits to business owners. By utilizing a bulk SMS service provider in Hyderabad (India), the company owner may maintain contact with their clients.
Those who opt for Bulk SMS service in Hyderabad might witnesses a much reduced cost to reach a broader audience.
What is Bulk SMS and how does it works?
Text messaging, also known as short message service (SMS), is a strong medium for connecting with and providing vital information to consumers and other mobile phone audiences.
Bulk SMS marketing is a practice that uses text messages to reach out to a large number of individuals at once.
Text SMS marketing campaigns may be delivered to users to tell them of special deals, notifications, emergency information, updates, reminders, and much more.
It's an effective way to communicate with customers, wherever they are in their customer journey.
Although this type of marketing has been around for a long time, it is still the most efficient strategy to reach your consumers, enhance customer engagement, and promote conversions.
Depending on the use case, a large number of SMSs are sent for a variety of purposes. Bulk SMS is a precious tool that has been divided into two types based on its applications:
Promotional SMS:
It is used to send promotions and offers to new prospective customers as well as existing ones. Customers may simply be kept up to date on new store offerings, and all of the most recent information can be delivered to them in a matter of minutes.
Non-critical SMS can be readily sent to many customers via promotional SMS, and the messages will be delivered exclusively to NON-DND registered members. It is one of the best and cheapest ways to do business promotion. These types of messages are known as
1) Promotional SMS
2)Marketing SMS
3) Business SMS
4) Awareness SMS
Transactional SMS:
It can be used to communicate with clients by delivering SMS updates and alerts. Transactional routes are also used to send OTPs and notifications to registered users, and these sorts of SMS can be delivered quickly.
There are the different forms of messaging under the transactional category.
Transactional SMS

 Informational SMS

Service SMS

Optin SMS

OTP SMS

API SMS
Bulk SMS Services are further classified based on the functionality allowed by the various SMS panels.
Some of the features are highlighted and detailed here.
1) Normal SMS
2) Unicode SMS
3) Customize SMS
4) Personalize SMS
5) Multimedia SMS
6) Event SMS
7) Survey SMS
8) Short Link SMS
The above SMS features can be used for a variety of purposes, such as sending English SMS using the Normal SMS feature, sending SMS in other languages using Unicode SMS, sending SMS in other languages using Customize SMS, sending unique SMS in each number using Personalize SMS, and sending multimedia files such as Images, Videos, Audio, Documents, and so on using Multimedia SMS.
These were some types of Bulk SMS Services. now let's move on to understanding some benefits of bulk SMS marketing.
Sri sai SMS is a reputable, modern, and top-notch bulk SMS service in Hyderabad.
Sri sai SMS provides organizations and individuals with various SMS services and solutions. At unequalled pricing, we deliver bulk SMS service in Hyderabad.
Our proprietary bulk SMS software automates the sending of texts straight from the Excel plugin. You have the option of deleting and adding contacts to your bulk SMS contact list.
If you're seeking for the most dependable bulk SMS service in Hyderabad, Sri sai SMS is your best bet!
Who is eligible to get Bulk SMS in Hyderabad?
Individuals and businesses may go with bulk SMS service provider company to market their brand or offer a service.
You may send mass text messages to thousands of people if you own a real estate firm, restaurant, spa and salon, educational Institute, etc.
There is a probability that 50% of customers will be willing to buy a residence.
If you own a salon and provide reduced services, you may develop a list just for women. By sending them the offers through SMS, you can ensure a favorable response from the people.
Bulk SMS can also be used for the following purposes:
Customer Engagement
Alerts
New notices
Promoting new products
Brand awareness
Sales promotion
Offers promotion
Product/service updates
Outdoor advertising may be rather costly. By opting for bulk SMS in Hyderabad, you may significantly reduce your advertising costs.
This service allows users to communicate with the people on a regional, nationwide, and even global scale. If you want to enhance your customer relationship, choose Sri sai SMS. We would be happy to serve you!
Benefits of using Bulk SMS
We have several reasons why consumers should select our bulk SMS service over others. Our company provides various services through which you can quickly market your business.
Efficiency is the first factor to consider while purchasing any services. Our bulk SMS service is quite effective, and it is very easy to use.
SMS is the simplest and most cost-effective method of communication. However, the ministry has regulated the number of SMS sent every day. Our bulk SMS service enables you to send more SMS in order to keep connected with your clients, customers, and everyone else.
You can send SMS messages to a group of persons with a single click. This is the most straightforward and most efficient method of sending several SMS.
Because it is a quick and straightforward process and can be executed online, it saves you significant time and generates leads and increases productivity.
If you're seeking the best bulk SMS services available, you've come to the right spot.
Sri sai SMS provides bulk SMS services in various cities like Hyderabad, Bangalore, Kolkata, Chennai, Mumbai, Pune, and Delhi. Additionally, we support corporate services such as insurance, retail, and banking.
Our Expertise in Bulk SMS Hyderabad (India) are:
Indian real estate market is very dynamic and vibrant. As we are the second most populated country globally, our demand for quality housing is relatively high. 
Indian market demand various families of real estate such as residential, commercial, warehouses, Lands, Plots, Agriculture lands, etc.
Bulk SMS for Banking and Financial Services : By delivering timely warnings and notifications using SMS APIs, you can end interminable wait periods and late paper messages. Integrating client-facing services into an SMS platform may eliminate invasive calls and negative customer experiences.
Bulk SMS for Ecommerce Industry :
Despite the epidemic, the eCommerce business has had a 17 per cent increase in growth over the past several years. Since people prefer to shop online from the comfort of their own homes, eCommerce has the potential to grow substantially.
Why you should choose Sri Sai Technologies your Bulk SMS Service Provider in Hyderabad
Do you desire to boost sales in order to run a profitable business?

We provide the greatest technology as the finest Bulk SMS Marketing company in Hyderabad to assist you in growing your revenue

.
To earn money, a firm must communicate with their target audience.
By having Sri Sai SMS as your Bulk SMS Service providers in Hyderabad, you may connect with an audience intrigued in your services.
In India, millions of individuals own mobile phones. You may contact them by mass messaging.
Our service is not prohibitively expensive. We provide the cheapest high volume bulk SMS service in Hyderabad. Through mass texting (Bulk SMS), you may form groups and communicate with individuals of all genders, classes, and ages.
Rapid results
We provide services in all localities across Hyderabad. Some are mentioned below.  
Bulk SMS service in Kukatpally,  Ameerpet,  Sanath Nagar, Khairatabad, Musheerabad,  Amberpet,  Nampally, Secunderabad, Hitech city, Serilingampally, Lingampally.
Bulk SMS Hyderabad - Common FAQ's
Is DLT Registration required to send Bulk SMS ?
How do I get technical support from bulk SMS service providers in Hyderabad ?
We provide 24/7 technical and after sales support to every client. We are bound to resolve every issue that our client faces. They can send an email on support@srisaitechnologies.co.in or contact on 9594644034
Is their any per day limit on sending bulk SMS in Hyderabad ?
No. Their is no limit on sending bulk SMS on daily basis. You can send as many SMS as you want. You can also schedule your bulk SMS delivery.
What is the cost of Bulk SMS service in Hyderabad ?
Our SMS Plans Starts from