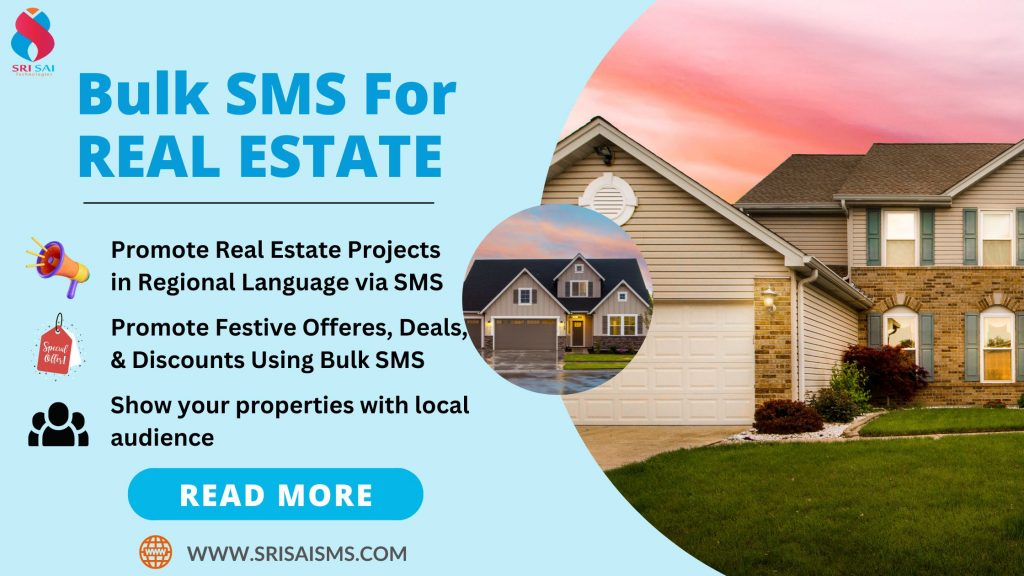 Bulk SMS Services for Real Estate
Bulk SMS Service for Real Estate: Indian real estate market is very dynamic and vibrant. As we are the second most populated country globally, our demand for quality housing is relatively high. Indian market demand various families of real estate such as residential, commercial, warehouses, Lands, Plots, Agriculture lands, etc. So it becomes difficult for real estate agents and developers to reach the customers who have the intent and budget to buy the property. 
The Bulk SMS for Real Estate marketing service is intended to help real estate brokers, and dealers boost sales. Sri Sai technologies provides economical and dependable Bulk SMS solutions designed specifically for the real estate business.
Without question, handling the sale and purchase of a property has several problems, including paying a significant amount of money and time to reach the ideal consumers. Real estate brokers frequently want a platform to present a property list to thousands of consumers at once.
Benefits of Bulk SMS Service to Real Estate Agents:
Reach your target audience in their regional language
Real estate agents get the benefit of regional language to market the local properties to native audience. This practice may be helpful to leave a long lasting impression on the local people's mindset about the property.
Drive traffic to your real estate website
Using Bulk SMS enables the distribution of group text messages and quick links to the company's website.Prospective buyers can peruse the property list to examine photographs, learn about the locations, and learn about the possibilities that may interest them. Additionally, you may send a message using the Short Code to customize it.
Promote your property to thousands of customers within no time
Whatever your industry, whether real estate, E Commerce, legal services, or anything else, bulk SMS will always generate sales. Sending marketing and promotional messages simultaneously to thousands of individuals is an opportunity in and of itself. Given that SMS is the most frequently advised marketing method by clients, it's evident that you'll generate purchases.
Run festive offers, deals, discounts
Real estate is a thriving sector; individuals are involved in the sale and acquisition of property and may seek the appropriate specialist to assist them. To communicate with customers efficiently and establish a lasting customer connection bulk sms marketing proves to help efficiently.
If the prospects are not interested in acquiring the property, they may be interested in selling it, for which they will want the assistance of a knowledgeable consultant.
Bulk SMS marketing provides an excellent platform for efficiently communicating with your audience. Even if just 10% of clients are interested in the services you offer, you have the chance to increase your sales graph significantly.
Additionally, you might post specials and discounts on property sales and purchases throughout the festive season to attract consumers.
In a nutshell, bulk messaging is a cost-effective and straightforward technique of marketing communication. A promotional message can help increase real estate sales. It is an effective communication channel that enhances the relationship between the firm and its consumers.
It is the most suggested choice due to the availability of inexpensive bulk SMS packages tailored specifically for real estate business owners.
So any real estate agent can blindly trust Bulk SMS Services as it is going to be very profitable for them. Sri Sai SMS proudly delivers best Bulk SMS Service for real estate in Mumbai, Bangalore, Hyderabad, Pune, Chennai, Delhi, Jaipur, etc.