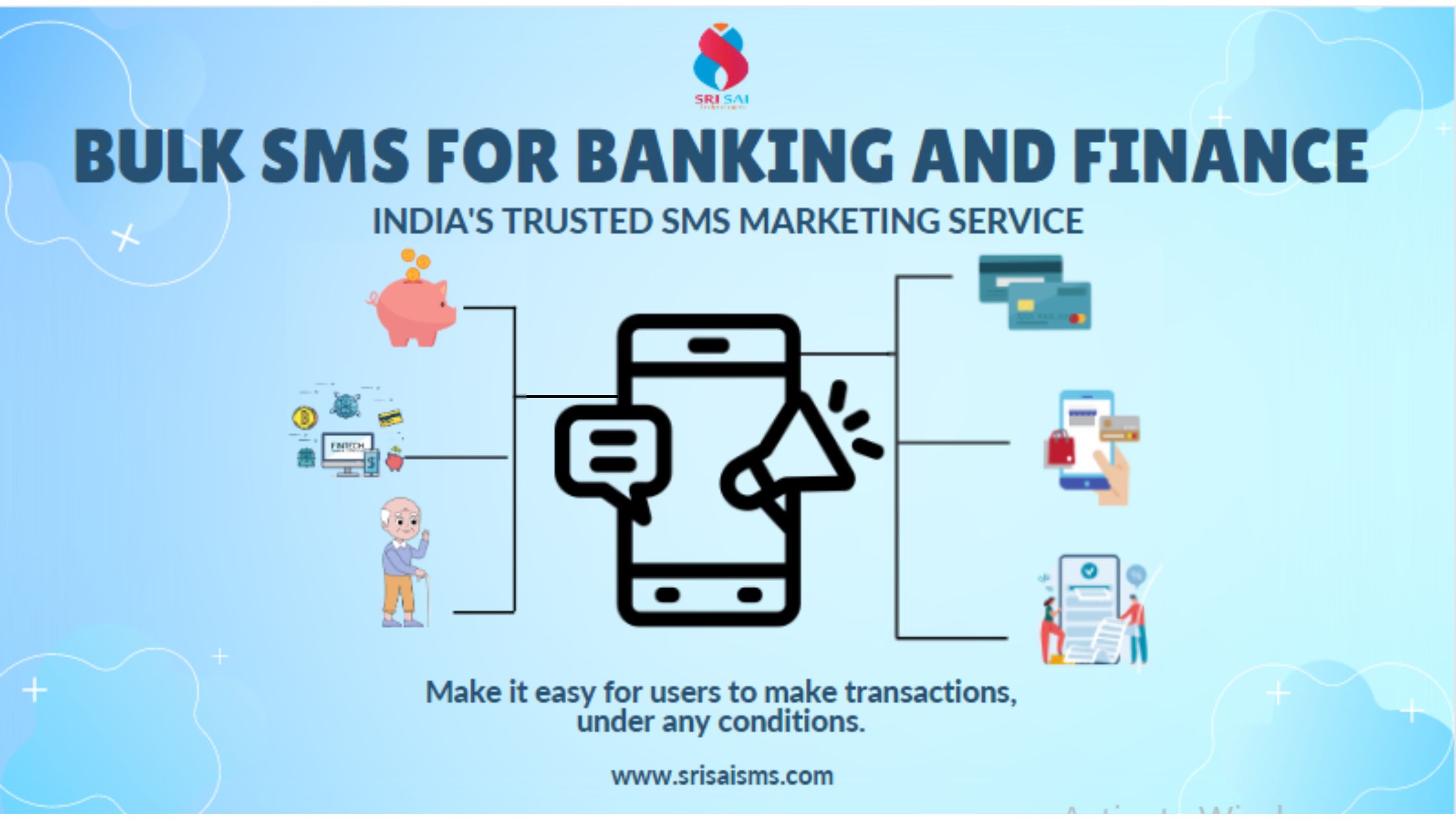 Bulk SMS for Banking and Finance – By delivering timely warnings and notifications using SMS APIs, you can end interminable wait periods and late paper messages. Integrating client-facing services into an SMS platform may eliminate invasive calls and negative customer experiences.
Utilize Sri Sai Technologies to deliver various immediate, actionable alerts ranging from bank statements and financial transfers to trading updates.
Allow clients to reach out to you promptly for information via SMS. Using our robust Bulk SMS services to become the unseen but always accessible personal banker.
Need of Bulk SMS in Banking and Finance
Banking is an increasingly significant aspect of our lives. Banking activities include passbook updates, cash withdrawals, and check processing, but the days of standing in a wait for passbook updates, cash withdrawals, and other operations are over.
Today's banking business is rapidly expanding and transforming its traditional service operations through Bulk SMS. The financial industry may also utilise bulk SMS to promote and increase sales and services.
Benefits of Bulk SMS in Banking and Finance Sector
1) Use Mobile for Push notifications:
With Sri Sai Technologies, you can send consumers bank statements, insurance policy updates, loan approval status, credit card approvals, and payment receipts as SMS attachments. Reduce the usage of paper and also the number of bank visits by using Bulk SMS.
Keep customers engaged by sending them Bulk SMS for OTPs, Cash withdrawals, Credit card renewals, the credit card usage limit, etc. Sri Sai Tecnologies developed robust technological advancements for seamless and speedy Bulk SMS services.
3) Provide useful information to the account holders:
Replace unread email campaigns, disturbing calls with more personal and result oriented bulk SMS services for banking and financial services. Send important and urgent do's such as linking adhaar via bulk SMS.  
4) Send personalized SMS to your Customers:
Don't stick to the conventional sending Bulk SMS; keep doing experiments. Sri Sai Technologies allows you to do multiple permutations & combinations of customizations with their simple and user-friendly dashboard.
You can create a fully customized Bulk SMS campaign using multiple text templates and languages and send it at various time intervals.
5) Trace the analytics of your campaign:
With Sri Sai Technologies flawless and easy-to-operate dashboard, you can easily monitor the performance of your SMS campaign. Analyze significant metrics such as open rate, delivery rate, etc. Accordingly, customize the text template, link, offer, headline, campaign time, etc. for better results.
6) Promote latest Products & Services:
Attract customers by promoting the latest financial instruments and services via Bulk SMS. You can do this simply by inserting one call to action link in the text and monitoring the performance of your campaign to improve.
7) The banking and finance industry communicates successfully with its customers using SMS.
Banks and the finance industry use bulk SMS to communicate with their consumers professionally. This industry uses Internet SMS for advertising, alerts, and transaction notifications.
Bulk SMS is a cutting-edge instrument that provides a cost-effective and beneficial approach for the banking and finance industries. Banks used Bulk SMS to deliver personal information to customers, such as account numbers, PINs, and ATM transaction records, among other things.
Bulk SMS is used in banking for various functions, including loan status, EMI reminders, account details, installment information, festival greetings, and interest rate information.
Prevent unauthorized activities:
Bulk SMS can play crucial role in banking and finance sector. It can prevent spam incidences and practices that took place with your account and immediately inform you by sending you alert message.